Longreach is in Central West Queensland, approximately 700 km from the coast, west of Rockhampton.
The town is on the Tropic of Capricorn about halfway between Mount Isa and Brisbane. The town is named after the 'long reach' of the Thomson River on which it is situated.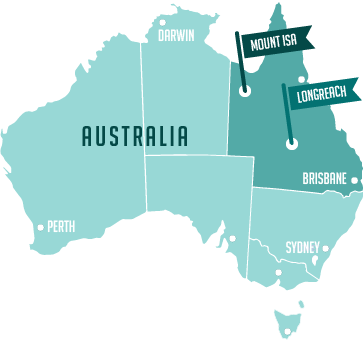 The Longreach Region has a number of accommodation choices from quality caravan parks and motels to deluxe heritage-inspired, self-contained options.
Be sure to book in advance as we can not guarantee availability during the lead up to and during the rodeo.
Mobile Coverage
Please note that the mobile network coverage in Longreach is 4G, with limited coverage of Optus. In Ilfracombe and Isisford is Telstra 3G mobile. The Telstra 4G ans 3G network coverage is generally restricted to the area close to these towns, with parts of the Landsborough Highway having minimal to no coverage on the Telstra 3G Network. Telstra's Mobile Broadband is accessible via the Telstra 4GX Network in Longreach.
Public Telephones
There are several public telephones available, coin or card operated. These are located between the Council Office and the Post Office on Eagle Street, in the Taxi rank area in the middle of Eagle Street (opposite Target Country), out the front of Mercury Business Supplies at the southern end of Eagle Street and on Crane Street (north side) near the Lioness Park.
Images supplied by Tourism And Events Queensland